Updating RDS-WebAccess
Our development team is working on a daily-basis to ensure the stability and compatibility of RDS-WebAccess with the latest versions of Microsoft Operating Systems and the latest Updates.
We are proud to provide you with new features and enhancements every week. This is why it is recommended to keep your server up to date.
In order to see which RDS-WebAccess version you have and update it:
You can check the status of your RDS-WebAccess release on the Home tab of your AdminTool:
You can then click on it. Since RDS-WebAccess 11.50 version, the AdminTool automatically downloads:
and applies the Update Release program when requested:
You still can download it via this link: Update Release and apply it manually.


The Update Release program is designed to keep your current RDS-WebAccess settings safe.
It is not required to reboot after Update; however we do recommend to do so.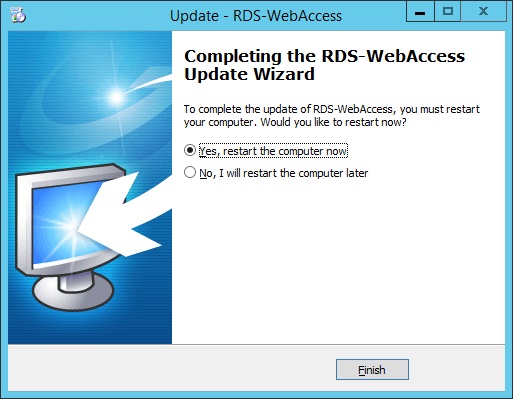 In case the latest version of Java is not found on the system, RDS-WebAccess automatically offers - during setup and updates - to download and install OpenJDK 11. OpenJDK is the open source part of Java, also used to build the Oracle JDK: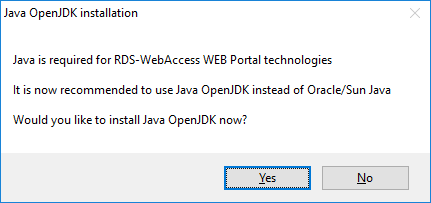 ---
Since RDS-WebAccess 11.40 version, you will have the choice to install RDS-WebAccess Ultimate Protection, in its free trial version (All Security features free to use for 2 weeks) to your RDS system: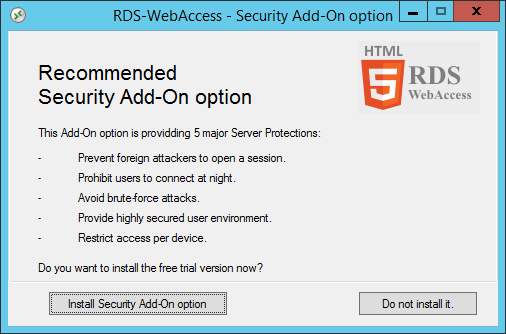 For more information about this product, see pages about RDS-Knight Ultimate included features and documentation.