Settings and License
On this tile, you can see if you activated security features by looking at the Protection Status ticks.

On this example, all security features are activated, under the Protection Status:
Below, you can see your server information, with:
your server name
your serial number
if you have a trial license or an activated one
On the right, you can modify RDS-Knight Settings, activate your license and check for updates. Click on any tile to go to the corresponding information.
Users Whitelist
The Users Whitelist tile gives the Administrator the possibility to add/remove users from the whitelist.
Users on the whitelist are ignored by RDS-Knight and their settings will not be applied.

The user who downloaded RDS-Knight is automatically added to the Whitelist:
IPs Whitelist
Local IP addresses are NEVER blocked by RDS-Knight and you can add the IPs addresses you wish to whitelist on this list:
Add an SMTP configuration
On this tile, you can setup up your SMTP configuration in order for RDS-Knight to send you email alerts to highlight important security events: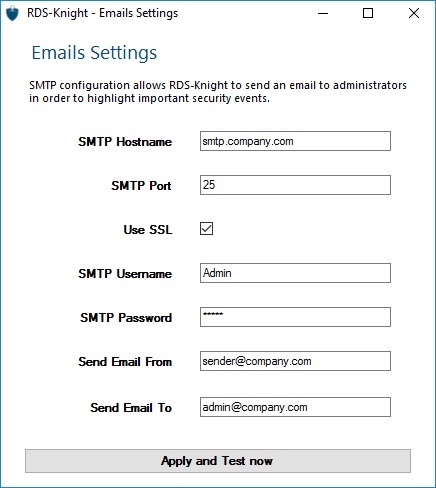 Enter your SMTP Hostname, Port and check the Use SSL box if you wish to use SSL.
Enter the SMTP Username and Password, as well as the sender and receiver addresses.
Email Settings can be validated by sending a test when saving SMTP settings.
Add a PIN code to the Administration Tool
At the right of this window, you can maximize security by creating a PIN code for your RDS-Knight Administration Tool:
Click on Save. The PIN code will be required the next time you will start the Administration tool.
Activate your License and check for updates
You can also activate your license, see this page.
And can check for update by clicking on the button next to it, where you will see your installed version, the latest version available and download it: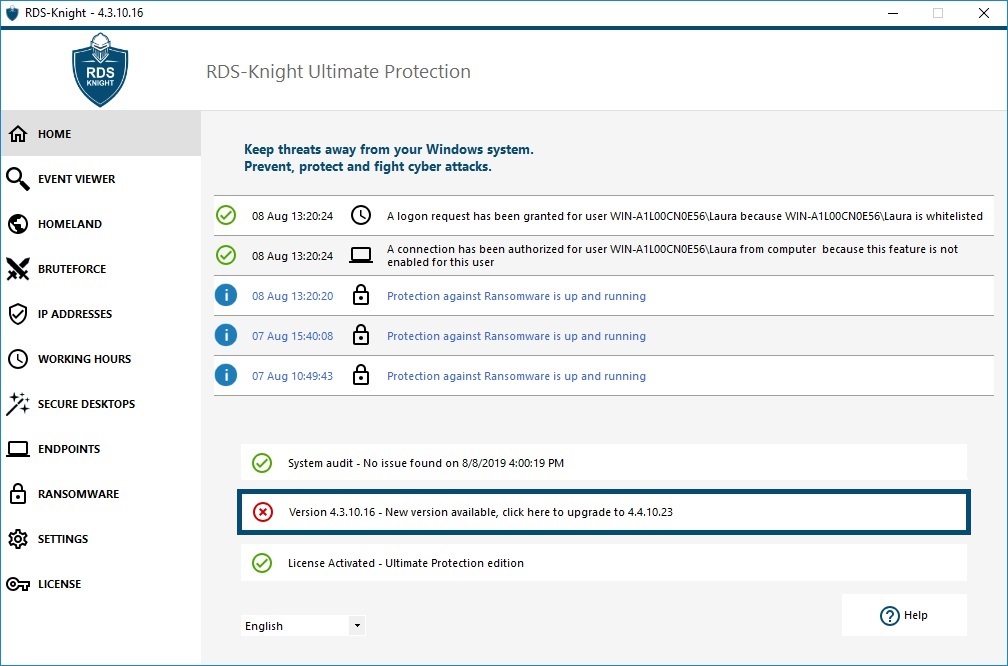 Contribute to improve RDS-Knight
With your consent, RDS-Knight will be collecting and sending anonymous data in order to improve future releases. The checkbox "Contribute to improve product by sending anonymous data" is checked by default. You can of course uncheck it if you do not wish to contribute.